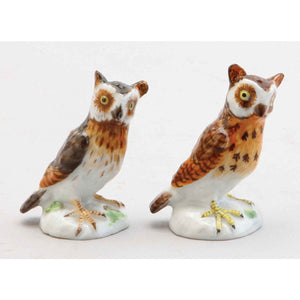 Two Meissen Porcelain Owls
Two Meissen Porcelain Figures Of Owls, Comprising:
A. 1924-37, Incised Nos. 1020 And 115; 4.5 Cm High
B. 1980, Incised Nos. 130A And 77141; 5 Cm High
Blue Crossed Swords Mark.
About Meissen Porcelain
Since the early 13th century, Europe's ruling houses had been importing porcelain at mind-boggling prices from China. Research aimed at cracking the secret of how porcelain was made commenced at Meißen early in the 18th century. Those involved were Johann Friedrich Böttger, Ehrenfried Walther von Tschirnhaus, the Freiberg Mining Counsellor Gottfried Pabst von Ohain and further mining and smelting specialists. The research was commissioned by Augustus the Strong, Elector Prince of Saxony and King of Poland.
The work proved successful. The first white porcelain was produced in 1708 under the direction of Johann Friedrich Böttger. Europe's first porcelain had been born.