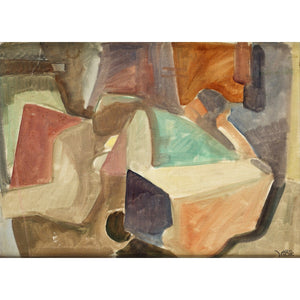 Abstract by Yakkov Eisenscher
About the Artist:
Eisenscher was an Israeli painter. He was born in Bukovina and received his artistic education in Chernowitz and at the Academy for Arts in Vienna. In his youth he associated with a group of Jewish intellectuals, including Itsik Manger, Eliezer Steinberg, Bernard Reder and others. He made Aliyah in 1935 and settled in Tel Aviv.
Eisenscher taught at the Bezalel Academy of Arts and Design between the years 1952 and 1967. His exhibitions were displayed worldwide. For five years he had lived in Paris and was influenced by Cubism. His paintings included visions of the Jewish shtetls in Eastern Europe, markets, synagogues and scenes from Eretz Yisrael and its characters.
In 1954 he marketed a selection of colorful wood carvings. In 1957 he participated in the Venice Biennial international art exhibition. Eisenscher was awarded the Dizengoff Prize (1947) and was distinguished by the city of Haifa (1958).