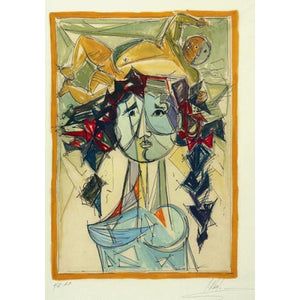 Abstract Woman by Isaac Kahn
About the Artist:

Isaac Kahn was born in 1950 in Kaunas (Lithuania).
His father was a painter.
In 1964 he moved with his mother and sister to Israel, where he attended the "D. Israel Goldstein" Art Institute and the "Bezalel" Art Academy, in Jerusalem.
In 1973 he moved to Uruguay where he continued his studies at the University of Plastic art in Montevideo.
With other sculptors he worked on a huge creation of the "Uruguay national shield" and the "El nacimiento de nuestra nacion",
and a diorama of the declaration of indipendence "Piedra Alta de Florida", which are all displayed in the law building.
These works earned him a letter of thanks from president Esteban R. Cristi.
In 1975 - at 25 years of age - he presented his first one-men exhibition at the Exhibition Hall of Montevideo with the sponsorship of the Uruguay-Israel Cultural Institute.
His first work was purchased by the widow of the President of Uruguay, Matilde Ibanez de Battle Berres.
He also worked with many other artists, including names like Luis Gianmaarchi and Octavio Podesta, and in particular, Carlos Montanez,
his painting master and dean of the University, and also a disciple and assistant of Sicheiros.
In 1976 he returned to Israel, where he opened a studio and continued working.
In 1978 he received a sculpture prize from the Latin American Organization in Israel (O.L.E.I).
In 1983 his sculpture "Pas de Deux" was purchased by the Hasidof family and donated to the Abima National Theatre of Tel Aviv.
In 1984 he began working in Italy with the Bonvicini Fonderia Artistica, and still works with them today.