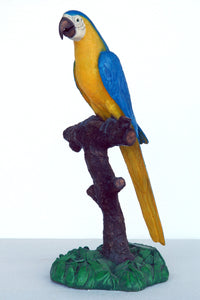 Blue & Gold Macaw Blue & Yellow Parrot
Blue & Gold Macaw, blue & yellow parrot percehd on tree branch. Made from durable resin material.
Height: 90 cm
Width: 43 cm
Length: 46 cm
Volume: 0.178 cbm
Weight: 8 kg
Who doesn't like birds? These amazing life-size birds' models add up to some of our most popular items.
You'll be glad to discover that our birds' collection includes exotic birds and tropical birds such as Cockatoo, Toucans , parrots, flamingos and others.
These authentic birds' statues are truly exceptional and each has its own distinctive features, a one of a kind vivid look.
Most of the birds statues are free standing, whereas others are designed to be installed from the ceiling.
Fashioned by skilled artisans, all our life-size animal models are handmade to the finest detail and note of high quality resin which is also a highly durable material.
Birds' sculptures are suited for everyone who wants something a little different for their living and working environment. Birds statues are an ideal additional ornamental piece to smarten up your home, an office, a garden, a game room, restaurants or any other type of business. A bird model is an ideal addition to a vet reception office, pet shops and a Safari.