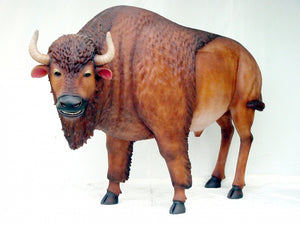 Buffalo Standing
Real-size Buffalo standing. Product made from resin material with life-like features.
Height: 190 cm
Width: 195 cm
Length: 94 cm
Volume: 3.4827 cbm
Weight: 85 kg
Life size land animal figures make an unusual addition for any home or business. We offer a wide assortment of decorative life size animals including cows, apes, zebras, predators and many more so you can choose your favourite!
All of our high-quality animal models are hand painted by skilled artisans and moulded from resin, a very durable material.
Our design team is working on unique designs that will keep you interested. Our collection includes realistic life size models as well as figures that are designed in a humorous fashion. It's up to you to choose!
Each animal figure will make great addition to a vet reception office or a pet shop.