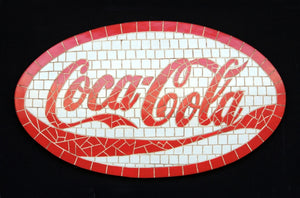 Coca Cola sign mosaic
Wall feature, Coca Cola lable mosaic in red and white.
Height: 44 cm
Width: 7 cm
Length: 74 cm
Weight: 5.5 kg
The ancient art of mosaics lives on with our range of creative wall feature mosaics!
We have a great range of mosaic features created from affordable resin material. All mosaic parts are delicately hand painted with high quality paints. Our mosaic features include symbols and logos of famous drink products, famous football clubs, famous people such as Michael Jackson and President Obama, music groups such as the Rolling Stones and the Beatles, horoscope signs, Christian images and more!
These handcrafted products are a great addition and attraction to a wall, the perfect décor item to create atmosphere and charm. Our mosaic features look great in restaurants, bars, coffee shops, hotels, in your own home, or even a gift!
Want the best pub, club or bar in town? Whether you are looking for wine, spirits or beer décor products, we have it all!
Promote the best drinks, wines and spirits with our tasteful wall hangings. Our range includes world renown labels including; Heineken, Corona, Coca Cola, Guinness, Miller, Bacardi, White Horse Scotch Whisky, Johnnie Walker and Jack Daniels. We also offer real size wooden wine barrel bar stools and coffee tables, ideal for a rustic touch! In addition we supply decorative shelving features, wine holders and wine racks.
Our items will certainly bring character to any pub, club, drinking bar, winery, or even for your minbar at home! Such products can be a great addition to a liquor cabinet or be a perfect gift!
If you're looking for ways to spice up your living room or business, we might have the perfect solution!
We have gathered here amazing handmade figures that will transform any living space into a unique place that expresses your own sense of style. Our exclusive wall décor collection offers a wide variety of signs that include classic Hollywood icons such as Hitchcock, Laurel and Hardy and other classic figures that we all relate to.
We also offer Friendly "no smoking" signs and, cool liquor signs, automobile wall statues replicas, motorcycle wall sculptures and much more. All of our affordable wall décor items will add character and depth to any wall in your home or business.
Welcome to our extensive range of America figures and decor products. Fly the stars and stripes proud!
Our range of American features includes a replica life-size Statue of Liberty and Justice Lady. We also have USA military figures, comical politician figures with small body and large head, baseball figures, American football figures, NASA space figures and President Barak Obama and first lady Michelle Obama.
All our products are hand crafted from resin material and skilfully painted with high quality paints, using intricate patterns and features. These patriotic American features can be great in a house, USA shops displays, USA sport stores, American pubs and restaurants or American themed functions and events.
With our décor products you will surely feel like you are in the United States of America!