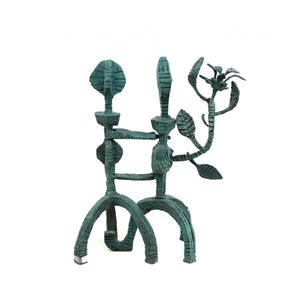 Dancers by Naftali Bezem
About the Artist:
Naftali Bezem was born in 1924 in Germany. Bezem immigrated to Israel in 1939, at the age of fourteen with a Youth Aliya group, before the outbreak of World War II. A member of the vibrant generation that built the state of Israel, his early adolescence was spent under Nazi oppression, in refugee camps and in constant fear for the safety of his parents, who died in Auschwitz. This personal history largely shaped his artistic style and work.
He studied at the Bezalel academy in Jerusalem (1943-1946), principally with Mordechi Ardon and spent three years working and studying in Paris, France.
Bezem's technique palette and style has changed through the years, but he has always remained a figurative painter. In the 1950s, social and political topics occupied a central position in his work: peace, immigrant transition camps, and proletarian scenes. Inspired by the Mexican painter Diego Rivera, he rendered social ideals in monumental mural wall paintings in public institutions and buildings. Bezem later passed from this socially committed subject matter to themes of national resurrection and liberation. Biblical motifs and traditional religious Jewish symbols represented the revival of the Jewish People in their ancient homeland. In his wall relief at Yad Vashem in Jerusalem, Bezem allegorized this homecoming in the wake of the Holocaust: the lion symbolizes heroism; the candles, the new life; and the cactus, the native-born young generation.
Bezem views art as an expression of the soul of a people, it's heritage, and it's truth. He has won several prestigious prizes, has been shown internationally in a group and solo exhibitions including the Venice Biennale and the São Paulo Biennale. One of his large works covers the ceiling of the main reception room at the President's House in Jerusalem. He has painted numerous frescos in Israel,and in the Israeli building at the Montreal Expo and Brussels international fair.
Bezem formulated his own allegorical form system, emotionally nourished by the inner jewish religious experience and his visible tokens. His paintings tend to the monumental and decorative, with the result that Bezem has become one of the most popular muralist in Israel.