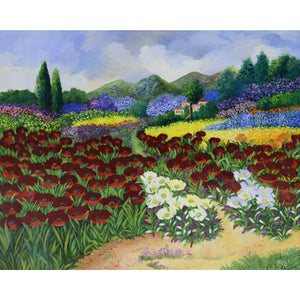 Flowers Field by Heddy Kun
About the Artist:
Heddy Kun was born in 1932 in Yugoslavia.
She was 7 years old when she started painting for the first time. When the war began – she stopped. She was raised by her grandparents in Budapest after her parents perished in the Holocaust. As a young woman she started painting again. She painted the village and the landscape, and in spite of the horrors of the war, she expressed the optimism she harbored in the most vivacious way possible – flowers of all kinds and colors. Ever since then, flowers have remained her first, big love.
In 1956 she graduated from the Budapest Academy of Fine Arts, and then immigrated to Israel, where she married Zeev Kun.
Heddy has had one-man shows in galleries all over Israel as well as in Europe, America and Australia.