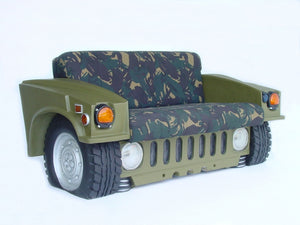 Humvee Hummer Car Sofa
Humvee Hummer car design sofa couch in army colours.
Height: 100 cm
Width: 100 cm
Length: 184 cm
Volume: 1.84 cbm
Weight: 127 kg
Welcome to our extensive range of vehicle and formula 1 product. We supply classic vintage style decor items as well as sleek modern transport figures and features.
Our modern items include resin real-size replicas of Formula1 racing cars as well as wall decor items of racing flags, nose cone and steering wheel. We also have a great selection of colourful mosaics featuring car brands and we have racing motorcycle wall features. Some of classic items include Harley Davidson, Chevrolet and Cadillac wall feature.
At Pop Art Decoration we also supply a great variety of car themed sofas, car featured coffee tables, car wall features with celebrity figures and vehicle featured wall mirrors. Our items are perfect for car or motorcycle lovers, for garages, car repair shops, vehicle or car themed restaurants or coffee shops, Formula 1 promotional items or even as a great feature in your own home.
Looking for the funkiest sofa, arm chair or couch in town? We can defiantly help you with our fun range of sofas!
Pop Art Decoration has the most modern, eye catching and interesting sofas to offer. We have a great range of sofas designed in the shape of a car, including; Chevrolet Classic car sofa or armchair, Humvee Hummer car sofa, 56 Chevy Car sofa and a motorcycle armchair. Our items also come in a range of colours!
For those of you not interested in cars, why not take one of our apple shaped single sofas. These deliciously comfortable chairs have a shiny fibreglass shell and are plush and comfortable inside. Choose from a range of colours! We also supply sleek and modern Egg shaped sofas with footrest.
Our uniquely shaped lounge chairs and sofas are sure to attract people...if not yourself! These products are great for relaxing areas, modern style coffee shops, internet cafes, waiting rooms, foyers, hotels, lobbies or your own lounge room.