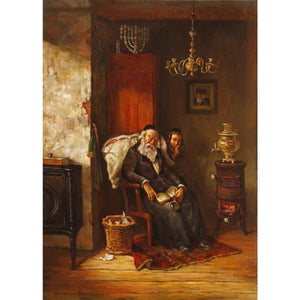 Jewish Father Sleeping by Boris Dubrov
About the Artist:
Boris Dubrov was born in 1979 in St. Petersburg.
At the mere age of five, after surprising his parents with his innate artistic intuition, Boris was enrolled in a school of arts. There he began to develop his knowledge of painting and graphics, which he later developed at a professional level.
In 1994 Boris entered the Art-Restoring Lyceum "Kupchino" where he developed interest in surrealism. The Administration of Lyceum arranged the first exhibition of his works in the field of surrealism.
In 1997, Dubrov arrived in Israel. He joined the Israeli Defense Forces serving three years. After the Army service, in 2002, he became a prize-winner of the "Young Artist" competition in Israel.
In 2004 he took part in the exhibition of surrealism at the Jewish University in Jerusalem.
Later, in 2005 his personal exhibition was held in Ashdod, which aroused tremendous interest and devotion to his works. Now, most of his paintings can be found in private collections.
The same year, Dubrov took part in "Salon des Artistes Fransas" in Paris, and an exhibition of "Judaica Art" in New-York.
In 2006, Boris had an exhibition at the Jerusalem Hebrew University.
Dubrov's creative range is broad and versatile, including social features of Judaica as well as strict classicism and surrealism, concealing the elements of erotic in landscapes.