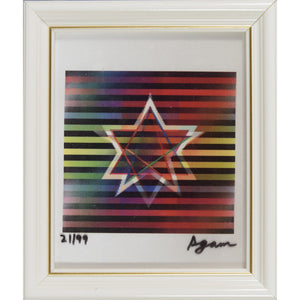 Jewish Star of David by Yaacov Agam
About the Artist:

Yaacov Agam was born in 1928 in Israel.
Agam studied at the Bezalel Academy of Art in Jerusalem, and in Switzerland at the Eidgenossische Technische Hochschule and the Zurich University.
Agam arrived to Paris in 1951 and in 1953 held his first one man exhibition in the Gallery Graven with great success.
This exhibition consisted totally of kinetic, movable and transformable paintings, which actually was the first one-man show in art history exclusively devoted to kinetic art.
In 1955 he established himself as one of the leading pioneers of kinetic art at the Le Mouvement exhibition at the Gallery Denise René.
A passionate experimenter, Agam deals with 4 dimensions, simultaneity and time in the visual, plastic arts, and has extended his experiments
to application in the fields of literature, music and art theory.