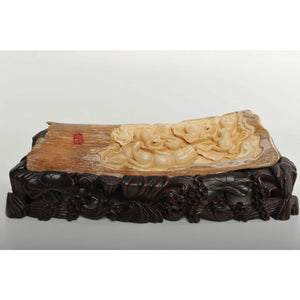 Mammoth Ivory- Frogs Swimming in a Pond
Unique high quality mammoth ivory carving of a group Frogs Swimming in a pond.
A family of frogs resting on a lotus leaves in a pond.
This is a great scene of a causal day of the frog's life just having a great time in the pond.
Notice how each Frog is resting on a lotus leaf.
Take a look at the fine detail on the frogs bodies and eyes.\
Notice the unique work of the master carver on the lotus leaf it almost looks real!
The details on frogs body is amazing and makes the sculpture very unique.
Look at the toes of the frogs, each is clearly demarcated and seems very realistic.
The lotus flower is known as it the material of graceful.
This statue is signed by the artist and laid on a teak wood.
* Mammoth ivory Legal to ship worldwide with CITES
* We don't deal with illegal elephant ivory