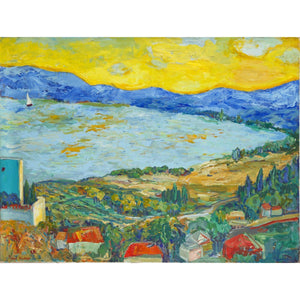 Ocean View by Michal Hacham
About the Artist:
Michal Hacham was born in 1967 in Israel.
Michal graduated with honors from the Academy for the Teaching of the Arts
and was subsequently apprenticed to some of the region's best known artists leading to her participation in a 1995 group exhibition of the Kibbutz Workshop in Tel Aviv.
When Michal embarked upon her journey as an artist in 1994 her preferred medium was watercolor.
Even at that stage in her career, many who viewed her earliest paintings said she showed signs of genius and great artistic talent.
As she continued to develop her natural talents she added acrylics and oils to her pallet.
In this new media she found her talent for simplifying a theme and for the reduction of reality.
Michal has a fascinating way of using oils in her family portraits, personal themes, and subjects from her home and surroundings.
She expresses her love of mankind and nature in a direct and realistic style with a deep understanding of the use of color, whether in oil, acrylic or watercolor.
Her brushes are guided by a confident hand and an internal sense of vision that clearly demonstrates the joy and of love that she feels for her subjects.
Michal Hacham is represented by Tribes Fine Art Gallery, Tel Aviv.