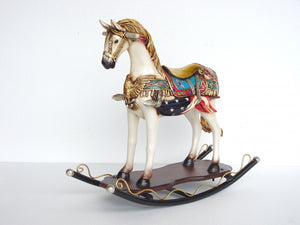 Rocking Horse All American
Medium-size white rocking horse. American decorated saddle with gold trimming. Perfect for children.
Height: 75 cm
Width: 32 cm
Length: 82 cm
Volume: 0.1968 cbm
Weight: 11 kg
If you are looking for a beautiful and affordable rocking horse, we have the answer!
Here at Pop Art Decoration we supply a great range of rocking horses and even other rocking animals! All our products are hand crafted from resin material and skilfully painted with high quality paints, using intricate patterns and features. We provide classic rocking horse items, including white horses or brown horses. Our items also include large-size carousel style horses with bright coloured saddles and decorations.
We also have other animals including rocking sheep, rocking bear, rocking monkey, rocking pig and rocking donkey. These items are sure to be loved by every child! The perfect addition to a children's event or party, theme park, childcare, kindergarten or your child's play room!