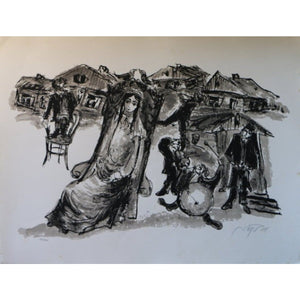 The Bride by Moshe Bernstein
About the Artist:
Moshe Bernstein was born in Poland and studied art at the Academy of Vilnius, Lithuania.
During World War II left the Soviet Union and in 1947 immigrated to Israel Aliyah Bet (not legally). His family, who remained in Poland, perished in the Holocaust.
With the rise caught and sent to a detention camp in Cyprus, where he became acquainted with the painter Naftali Buckle, who came to see the illegal immigrants incarcerated in the camp. Prints album released later in the operation of the Buckle also among the refugees included Bernstein's linoleum cut.
Moshe Bernstein continued to paint even in the Jewish town in Eastern Europe and unable to take his place among the masters of the new Israel. However, since the late 40s to the 70s was recognized and participated in various exhibitions, including at the Tel Aviv Artists House in Tel Aviv. In 1967, solo exhibitions at the Haifa Museum in 1973 had a retrospective exhibition at the Art Institute at Ein Harod. He also introduced various galleries in Tel Aviv.