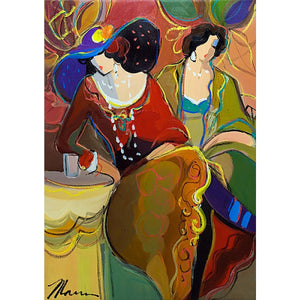 Two Women with Large Hats by Isaac Maimon
About the Artist:

Isaac Maimon was born in 1951 in Israel.
To French speaking parents, he exhibited an early artistic ability that was enthusiastically supported by his family.
After serving his time in the military, Maimon attended the Avni Institute of Fine Art in Tel Aviv, the most prestigious academy for the arts in Israel.
This is where his initial interest in the Paris school was cultivated.
In 1980, Maimon began teaching at the School of Visual Arts in Beer-Sheba and later that year the Kaye Art Academy.
In the late 80's he was a professor at the Ben-Gurion University in Beer-Sheba.
His art is displayed each year at the Art Expo in New York and has been exhibited, as well, at expositions in Los Angeles, Las Vegas and Japan.
He tours the United States annually with a series of one-man shows every fall.