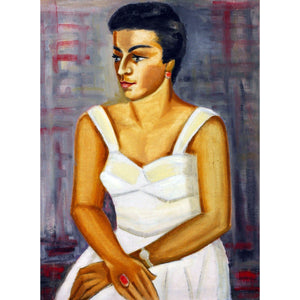 Woman in white by Sionah Tagger
About the Artist:
Sionah Tagger was born in 1900 in Israel. She attended evening classes at Constant's Studio in Tel Aviv and in 1921 she turned to study in the Bezalel School of Art and Design in Jerusalem under the guidance of Boris Schatz and Abel Pann. In 1924 she traveled to Paris, studied at the Academie L'hote, and participated in the exhibition of the Salon des Independents. In 1925 she returned to Israel and joined a group of Modern painters: Israel Paldi, Reuven Rubin, Arieh Lubin, Joseph Zaritsky and others. She co exhibited with them in the Ohel in Tel Aviv and the Tower of David in Jerusalem. In 1930 she joined the Hebrew Artists Association. In 1937 she was awarded the Dizingoff Prize from the municipality of Tel-aviv, and was among the founders of the Painters' and Sculptures' association's pavilion in Tel-aviv. Over the years Tagger continued to exhibit her paintings in Israel as well as outside of the country.
In World War II she volunteered for the British Army and in 1942 she joined the Haganah. In 1948 she represented Israel in the Venice Biennale. In 1977 she was awarded the title 'honored citizen of Tel-aviv'.
Tagger's art style was created of dialectical tendencies – on one hand, a quest for the universal, turning to the European Modern Art, and on the other, a return to her own roots and to the local. Tagger remained a figurative painter; even in her most abstract phases she remained loyal to practicality.
Tagger's best-known genre was portrait painting. The portraits she painted in the 1920s were created from many sketches. Their artistic style was a combination of Cubistic and Naïve art. A three-dimensional attention to volume, with powerful light-dark contrasts and well-defined stains of color, together magnified the emotional impact of the work.
A similar artistic style was a component of her landscape paintings. Tagger liked to draw the view of Tel Aviv and until the 1960s she chose to rent penthouses in Tel Aviv, in order to watch the city's vista, seashore as well as skyline. The exaggeration of the colors, the perspectives as well as the compositions of those paintings expressed the extreme feelings that rose from her gazing. The train movement and tempo in one of her paintings reminds one of the Futuristic's excitement regarding this vehicle.
Sionah Tagger is the most important female Israeli artist from the early decades of the 20th century. She passed away in the spring of 1988.