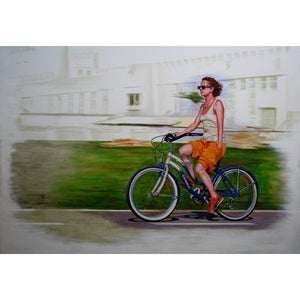 Woman Riding on Bicycle by Gustavo Valenzuela
About the Artist:
Gustavo Valenzuela was born in Santiago, the capital of Chile, on March the 12th, 1974. Since his very childhood he was characterized by a great inquietude and a huge necessity of no limits search, which will lead him to find a communication means through Art
At 18 years old Valenzuela started his formal studies of Painting with Master Ricardo Ramirez', the founder of Arte Real International Painting School, which is based on the work of the Ancient Techniques of the Great Masters. His Master gave him knowledge in the Painting tradition referred to composition (Form, Value, Color, Rhythm, etc.) and also about the working materials (Alchemy). Thus his learning begun in the field of Compositional Drawing, Structural Drawing and Sketching, as the painting techniques such as Frank-English (Pre-Raphaelites, approach to painting), Flemish and Venetian Grisaille, Venetian Technique, Baroque Technique, Claire-Obscure and Velazquez technique. In parallel Valenzuela studied Art History and Restoration in SEK International University of Chile from 1993 to 1996
Within a period of approximately four years of silent work Valenzuela headed to the beautiful city of La Serena in the fourth region of Chile to establish the first branch of Arte Real School. It is in this city where he begun to give all what was learnt with his Master to pass it to his students. It is so how he starts to work as a Teacher and Director of Arte Real School
As an accomplishment of one of his many projects he works with Israel tourists, who traveled through America and are passing by La Serena. Gustavo gives them intensive painting lessons obtaining remarkable results and very good welcoming from the foreigner students. Through this time he starts the formation of a group of students who desire to become disciples to project themselves as as future teachers or develop a professional artist's career
Valenzuela lives in Israel, since year 2005. At the moment he is concentrated in his own work and in the formation of students that are interested in the techniques of the realism art.